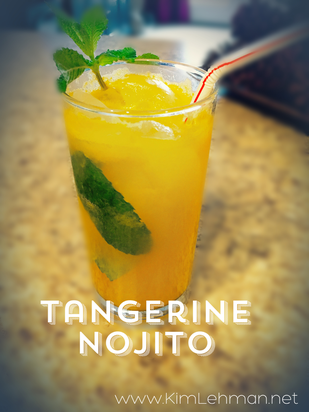 In another life, I want to be a mixologist.
I love coming up ideas for drinks (with alcohol and sans alcohol)l. This one happens to be non-alcoholic, but still delicious, I promise.
Sweet tangerine mixed with the tartness of fresh lime, muddled mint and crisp sparkling water. You don't really need the stevia, but I have a sweet tooth, so I throw it in.
Fun drink to serve on Taco night.
If you're having a party and want to make it more social, set up a Nojito bar and give your guests different juices and fruits to muddle in.  Arriba!
Ingredients:
1/2 Cup Tangerine Juice (Wegmans makes it fresh)
1/2 Cup Sparkling Water
1 Tablespoon Lime Juice
4 Mint Leaves
1 Packet of Stevia (optional)
Directions:
In a glass, add the stevia, mint leaves, lime juice and half of the tangerine juice. Muddle together until combined. Add ice. Add the remaining juice and top with sparkling water. Depending on how much ice you have you may not need to use all of the sparkling water.
Nutrition Facts:
Calories: 46, Fat: 0, Sodium: 7mg, Potassium 166mg, Carbohydrates: 13.9g, Dietary Fiber: 0.9g, Sugars: 11g, Protein 0.8g.
Calculated using CalorieCount.com
Don't forget to share...