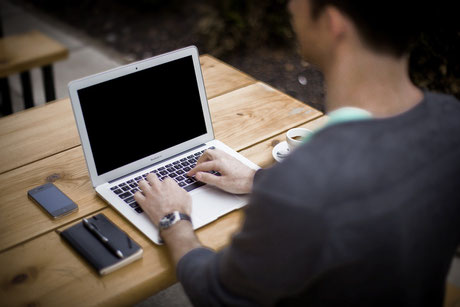 Staring at a computer all day can take a toll.
I'll be the first to admit I do a terrible job of getting away from the computer during the day. I track my steps with a pedometer, and last week I had an embarrassing 12,000. Good for a single day, horrible for an entire week. 
I'm writing this just as much for myself as for anyone else who spends too much time in front of a computer.
Below are resources and tips to help alleviate and reduce the damage sitting all day can do to your body.
1. Make sure you have a comfortable chair.
Use a balance ball, ergonomic chair or a combination of both like the Gaim Balance Ball Chair above to properly support your spine.
2. Fit in short, instructor-led workouts for FREE.
One of my favorite FREE apps is SWORKIT. You build your own custom workout and can set the amount of time you exercise between 5 to 60 minutes. If you take four 5-minute breaks, you'll have exercised 20 minutes by the end of the day.
Available on iTunes and GooglePlay 
3. Take a walk around the block midday.
I have poor circulation because of sitting too much. When I get up it helps circulate my blood and oxygenate my entire body and mind. I feel refreshed after a quick ten minute power walk. Do it. Don't think about it.
4. Improve Computer Vision Strain
Computer Vision Syndrome is real. Symptoms include:
Eye strain
Redness
Iritation or dryness
You may also experience burning eyes, double or blurred vision, headaches and neck or shoulder pain.
It's a good reason to take a break. You could also adjust your screen resolution. Make sure you use a high-resolution computer. Computer glasses are another option to help with gamma rays. Amazon sells a decent pair for under $20 here. 
5. Eliminate Neck Strain.
I've also provided a link to quick 4 minute video below from Gaiam on Youtube for stretching the neck and shoulders. 
Don't forget to share...
Notice to readers: The owner and operator of this site is a participant in the Amazon Services LLC Associates Program, an affiliate advertising program designed to provide a means for sites to earn advertising fees by advertising and linking to amazon.com.